Grants; at Funding Master, we constantly talk about taking a strategic approach to grants; but what do we mean?
When we talk to clients we go back to their strategic, business or development plan, we look at the areas that they want to develop, we develop projects to achieve these goals and we seek funding lines to get grants to fund, or co-fund, these projects. Sounds simple…but crafting the right projects, getting stakeholder buy in, finding the right partners and making the projects really impactful for the client, this is where the work is really done.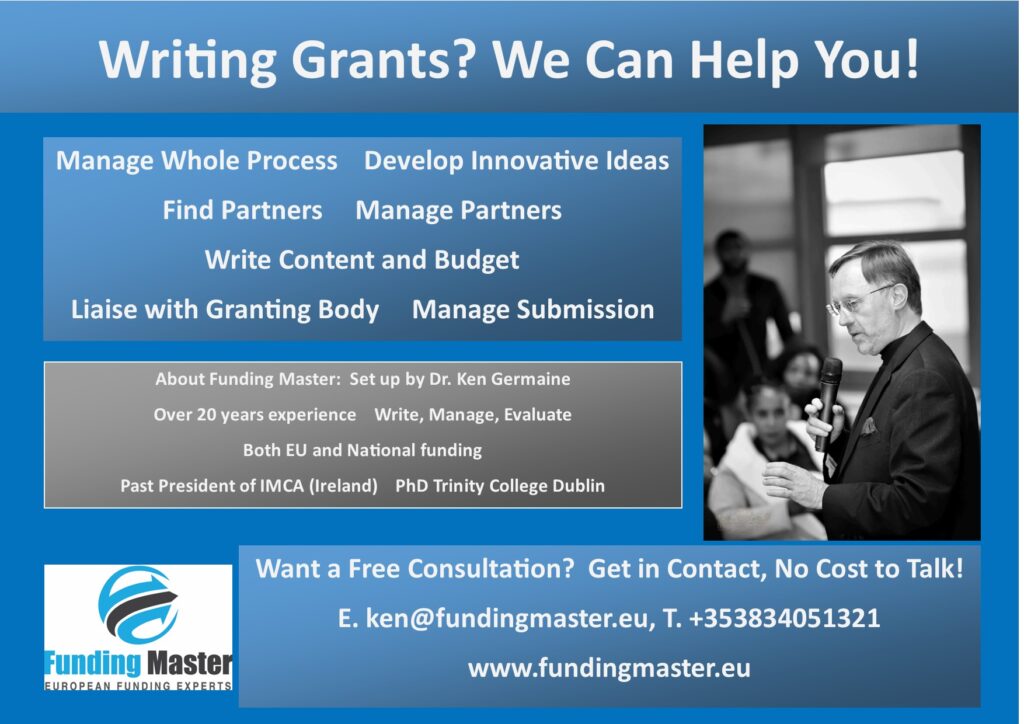 Why are SME, municipalities, public bodies and third-sector organisations/NGO not getting more involved in EU funding calls?
People have had bad experiences. One issue is getting involved in an EU project that was not strategically important to your organisation. It has happened to us all…'it's a simple project, won't take a lot of your time, there is a few grand in it for you, we will do all the work'. In reality, it takes up a lot of time, there is a lot of administration taking up staff time, it is a headache and there is no real benefit to you or your organisation at the end of the project. After a project like this people can develop a very negative outlook to EU projects. However, the problem was not EU funding, it was getting involved in the wrong project! You should only be involved in project applications that have a real impact on your key goals, if not, do not get involved.
I spend a lot of time advising clients not to get involved in specific projects. People think that strange, surely we want to write as many projects as possible…NO. We want to write really serious, impactful and successful projects.
Another reason people can be averse to EU funding is having spent a lot of time and resources writing a previous application and not getting the grant. Now, there may be many reasons for this. It could have been the project was not well defined, as per the point previously. It could simply be that the project went up against a lot of good projects and there were only a few grants available. In this case, reapplying under another call, or for a different grant, can get you the funding. We always seek to reapply for a grant if not successful, taking into account the comments of the assessors. We strongly believe that a good project should be able to access funding from a range of funding programmes. We can however, make sure that your grant application ticks as many points as possible, avoids the many possible mistakes and is in the shake-up at the end.
So, what can Funding Master do for you?
We will write a strategic funding plan for you. This will define what is possible and what you should avoid doing.
We will develop project outlines for innovative projects that meet one of your specific needs.
We will identify the possible funding calls and the pros and cons of each. We will show you up-front the viability of each grants before you make the decision to go ahead, or not.
We will work with you to find the right partners.
We will manage the application process.
We will write the content for the grant application.
We will write a detailed budget for the grant application.
This means you will not tie up all that staff and management time in writing up the detailed funding application.
We will upload all the detailed content.
We, at Funding Master, are currently open to new clients. If you would like to discuss your needs, then please contact me at ken@fundingmaster.eu or +353834051321. It costs nothing to have a chat. Over the next few months, we will release a series of videos discussing specific needs; SME, municipalities, public bodies and NGO/third-sector organisations. You can view our video 'Tips on Applying for EU Funding' here.
Funding Master works with clients to develop, write and submit funding applications. The opinions set out here belong to the author(s), they constitute opinion and nothing is intended to constitute advice. The blog is authored by Funding Master's founder and CEO, Dr. Ken Germaine. Please view his profile and please connect with him at his LInkedin profile here. Please contact us directly here if you have any questions on our work or this article. More information on our website here.